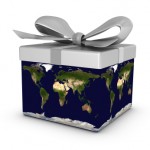 This morning I had the opportunity to meet a really nice group of freelancers here in Fort Collins, most of whom are members of Cohere, a co-working facility. The topic of discussion for the breakfast meeting was "how do you show your clients or customers that you care?" Most of the answers involved gifts. Things like a certain brand of chocolate bar (easier to mail because they are relatively flat), spirits with custom labels, forget-me-not flowers, restaurant gift certificates, and the like.
Those are all great ideas for gifts. However, gifts are not a common thing in the cartography/GIS business. Additionally, many of my clients are local government agencies where gifts above a certain dollar amount are prohibited.
I mentioned that I show I care in a different, although I hope just as meaningful way, by always being there for my clients. If something needs to be done over the weekend, I do it. I almost never claim that I am too busy to get a task done. How do I make this work, you might wonder? Because I will do whatever it takes to get that task done on time even if it means hiring sub-consultants to help out.
If I can give at least a portion of the task to someone else, I will (I've been very fortunate to have some great people to help out when needed). If the task involves something that is too complex for me to give to someone else, I'll outsource other portions of my business tasks for that period of time, such as editing, organizing, writing, or invoicing.
This is why I love being a consultant. I can be this flexible with my duties in order to provide maximum return on my time and my client's time.
A management consultant in the group mentioned that he shows he cares by always getting back to people within two hours. I do the same thing. Even if it is just a short email or call stating when I can get back to the person. There really is no excuse, in the age of email, texting, and twitter, that I can't get back to someone in a short period of time. That's right – even when I'm on vacation.
Now, the management consultant mentioned that occasionally he'll have a client who will take advantage of this. However, I haven't had that particular problem. People tend to respect other people's time.
What are you doing for your clients to show them you care?